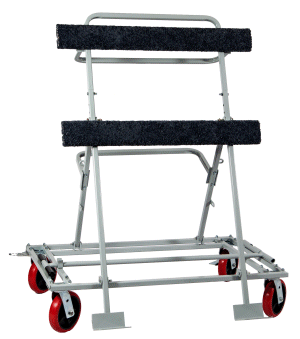 Now when talking about moving awkward sized items, windows and doors rise to the top of the list. In the past it would take multiple people to move windows and doors from a warehouse to the moving truck then into the installation location. Not only are they heavy but the risk of injury carrying them increases dramatically. Window / Door dollies reduce the risk of injury and make the task of moving them much easier.
There are several different types of Window/Door Dollies. There is your basic Window Dollie that's great for warehouses and solid surface transport. With a padded bar to protect windows and doors for scratches and damages. Two toe lifters to easily get under the window and lean back the load. The Window Dollie is designed to balance the windows for easy and secure transport. Solid casters also allow for smooth transport. A locking caster is also provided to prevent the Dollie from moving when not being used or when loading and unloading the window or door.
Sometimes you need a Window/ Door Dollie that can handle heavier than usual windows and doors. A Window Dollie with a larger frame and heavier duty casters are recommended. These Dollies are designed to handle higher weight capacities and larger Windows. The Dollies can range in capacity from 500 to 900lbs. They features a collapsible frame for easy storage on delivery trucks. These Dollies easily lift heavy doors, windows, plywood, drywall, paneling, plate glass, and more.
There are times when you need a Window Dollie to be transport over rough terrain. This can be a construction site, uneven payment, or grass. Large pneumatic casters make this task easy. Choosing a Dollie with pneumatic casters allows for a safe and easy transport without the rigid movement of solid casters.
Choose the right Window / Door Dollie for your application and make your transport of windows and doors much easier.